Bletchley cricket pavilion on Victorian Society's at risk list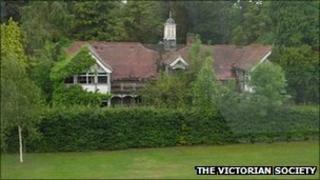 A Victorian cricket pavilion in Buckinghamshire has been named as one of the 10 most endangered buildings in England and Wales.
The Bletchley Cricket Pavilion, which was built in the 1890s, "needs urgent work to reverse years of decay", according to the Victorian Society.
The society compiled its list after a public appeal to find the most at risk Victorian and Edwardian buildings.
It said some were at risk of imminent demolition.
Among these are the South Eastern Railway Offices, which are threatened by the redevelopment of London Bridge station, and the Ancoats Dispensary, in Manchester, which was painted by the artist LS Lowry.
A Grade I-listed flax mill in Leeds, a former YMCA building in south Wales and Broadmoor high-security psychiatric hospital in Berkshire are also on the list.
The Bletchley Cricket Pavilion, which was built as part of the Bletchley Park Estate, was a "sobering example of what can happen when a building loses its historic context", the society said.
The building has been separated from its cricket pitch since it was sold by Bletchley Grammar School and is now divided from the playing area by a large hedge.
The bungalow-style pavilion is also largely concealed by trees, leaving it vulnerable to thieves who have stolen bricks and timber, leaving the building "extremely fragile", The Victorian Society said.
"Future generations won't forgive us for allowing buildings like the cricket pavilion to deteriorate beyond repair," the charity's director, Dr Ian Dungavell, said.
"It is in an extremely dilapidated state and the owners need to undertake urgent repairs before it is too late."
The society said it hoped the building, which is in the process of being sold, would find a new owner who was prepared to incorporate the pavilion into any new development.
It said Broadmoor Hospital was at risk because of an "ambitious and damaging" plan to demolish part of the original hospital, built in 1863, to make way for a boutique hotel and 100 homes.
The hospital was deemed "unfit for purpose" in 2003 and plans have already been submitted for a £250m redevelopment, providing new accommodation blocks and a therapy centre.
The Victorian Society said the proposals would see the original female wing and another block demolished.
West London Mental Health NHS Trust, which runs the site, said it had agreed no listed buildings would be demolished and it was keen to ensure the old buildings were "not allowed to deteriorate and that an alternative use is found for them".