Lyme Regis fisherman's bid to save wheelchair sea-fall woman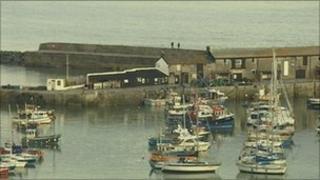 A fisherman has described his attempts to save a 20-year-old woman who drowned after her wheelchair fell into the sea off a Dorset pier.
Harry May was mooring his boat at the end of the pier in Lyme Regis on Friday afternoon when he heard a splash.
The woman, from Solihull, the West Midlands, was waiting for a cruise when her wheelchair rolled into the sea.
Mr May, 65, dived in to help but was unable to see in the murky water and could not release her from the chair.
The woman had been waiting with her parents to board a cruise boat for an excursion.
'Strapped in'
Emergency crews brought her unconscious to the surface after 30 minutes. She was airlifted to hospital but was later pronounced dead.
Police have so far not named the woman.
Mr May said: "I was just mooring my boat up, very nearby on the end of the pier and I suddenly heard a splash very close by.
"This lady [her mother] started screaming hysterically. In seconds I realised that the wheelchair had fallen over the edge of the wall and gone into the sea.
"The depth of the sea at that point was about 10ft (3m). It was about 6ft (1.8m) down from the top of the wall to the surface of the sea."
The mackerel fisherman who lives nearby in The Cobb said he was the only person at the scene, apart from the woman's parents, when the electric wheelchair went into the water.
He stripped off and dived in.
"It was freezing cold.
"I tried getting down two or three times.
"I got hold of her at one stage, but I didn't realise she was completely strapped into this huge wheelchair and I pulled and pulled.
"I had hold of some material when I was pulling and the material came off and the heavy weight sort of fell away and I struggled to get back to the surface again and up came a coat or some kind of cover for the lady."
'By feel'
A lifeboat crew arrived soon after but had trouble getting down deep enough to reach the woman, Mr May said.
"There was nothing to see, it was absolutely murky, a lot of sand in the water from the strong winds we were having.
"There was no chance of seeing anything, had to do everything by feel. If it had been a clear day you can see the bottom at the depth and things would have been a little easier but not simple."
Mr May said although the pier was quite narrow at that point, thousands of people had used it for hundreds of years without incident.
"This is a once in a lifetime utter tragedy," he added.