Bexleyheath stabbing: Woman killed in Broadway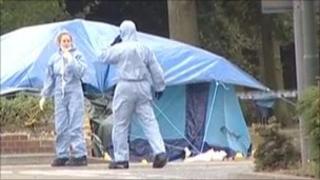 A woman in her 40s has been stabbed to death on a south-east London shopping street and another woman stabbed in the hand.
Officers were called to the Broadway in Bexleyheath at about 08:30 BST on Monday to reports of an assault.
London Ambulance workers treated the more seriously injured woman but she died at the scene. A third woman has been arrested.
It is not yet known whether the three women knew each other.
It was "too early to say what the motive was", a Metropolitan Police spokesman said.
An employee at the nearby Rose pub said she believed a blade was taken from the neighbouring British Meat Market ahead of the killing.
Knife recovered
She said: "I didn't see what happened but I think one of the girls stole a knife from the butchers.
"A policeman told my boss that's what happened. We were really shocked.
"On the whole we don't get that sort of thing around here. It isn't a bad place."
The Metropolitan Police spokesman said officers were called following reports of an assault, and found a woman suffering from a stab wound.
"She was pronounced dead at the scene at about 08:41. A second female was discovered with a minor knife injury to her hand."
He said: "We have recovered a knife from the scene. At this stage we are making inquiries as to where it came from."
A London Ambulance spokeswoman added: "We sent an ambulance and an officer.
"Sadly one patient, a female, died at the scene.
"A second female patient was treated for a minor hand injury but did not require hospital treatment."