Lyme Regis wheelchair sea fall woman named as Clair Perkins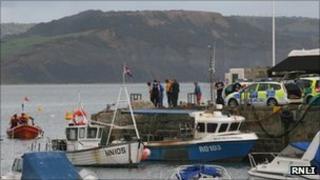 A woman who died when her electric wheelchair plunged into the sea off Dorset has been named.
Clair Perkins, 20, from Solihull, West Midlands, was waiting to board a cruise when her wheelchair rolled into the sea at Lyme Regis on Friday.
A fisherman tried to save her but struggled to see in the murky water and could not release her from the chair.
Ms Perkins was airlifted to hospital where she later died. An inquest has been opened and adjourned.
Emergency services arrived at the scene after the fisherman had dived into the water and managed to bring Ms Perkins to the surface after 30 minutes.
The Devon Air Ambulance landed on the beach and the woman was taken to hospital.