Devon and Cornwall heating oil thefts double in a year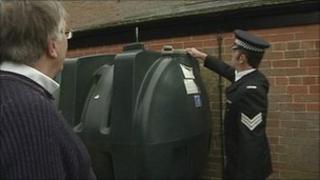 Thefts of heating oil in Cornwall and Devon from properties have doubled in a year, police said.
Devon and Cornwall Police said there were 120 incidents in winter 2010/11 compared to 58 in 2009/10.
Tank owners have been advised to protect their oil with locks or even CCTV, and to install level meters to alert them how much oil they have.
Worldwide rises in fuel prices were believed to be behind the thefts increase, police said.
Tanks were vulnerable targets because they often held thousands of litres of oil, often costing hundreds of pounds, and had roadside access to allow them to be refilled, officers said.
Sgt Richard Crosby, of Devon and Cornwall Police, added that the oil could also be used for more than just heating.
He said: "The oil can be used to run vehicles, so it's a prime target.
"Do basic stuff first: lock your oil tank and put a lock alarm on.
"In past years, CCTV was expensive, you had to get engineers out to install it. But now can get new systems which are basically just plug in and play."
Winter thefts are defined as those which occur between 22 December and 20 March.