Fire services face future funding challenges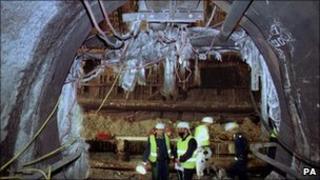 Fire chiefs across the country are having to deal with a cut of around 12% in their funding.
That's lower than many other areas of the public sector - a recognition of how important the service they provide is.
Today Kent Fire and Rescue Service (KFRS) has given a clearer picture of how it hopes to deliver the necessary £12m in cuts over the next three years.
It aims to close eight fire stations: Sturry, Matfield, Horton Kirby, Halling, Rusthall, St Margaret's, Queenborough and Seal.
But it says there will be no compulsory redundancies of any firefighters and it will be investing in new equipment, including 21 new fire appliances.
New challenges
Of course, any cuts in funding to the fire service are emotive.
People like the idea of having a local fire station. But in reality, in somewhere like Kent, their local fire appliances can be deployed across the county.
So, for example, if there is a house fire in Rusthall it doesn't mean it will be the appliance from Rusthall that is sent to tackle it - but an appliance will be deployed.
The chief executive of KFRS, Ann Millington, says it has spent three years on this review - it began even before the announcement of government cuts.
She says it's about making sure the fire service offered in Kent is fit for the challenges of the 21st Century and can cope with major incidents such as the Channel Tunnel fire of 2008.
But it also has to look at coping with more severe weather conditions as well as the higher numbers of vulnerable and elderly people living alone, who are more at risk from house fires.
Saving lives
She rejects the claims by the Fire Brigades Union (FBU) that cutting the number of fire stations means it takes longer to answer emergency calls and puts lives at risk.
That's a powerful argument. When it comes to firefighting, its said seconds can make the difference between life and death.
But the current model of the fire service is over 50 years old and it's hard to argue the need for two stations which are just over one mile apart - at Matfield and Paddock Wood.
Basically, the fire service faces the same challenge as the NHS; it is a cherished service and the public don't like to see services cut.
But, as with the NHS, perhaps difficult cuts and closures have to be made if the service is to modernise.