Rio Ferdinand stalker Susanne Ibru's appeal dismissed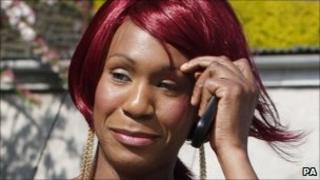 A woman convicted of stalking Manchester United star Rio Ferdinand has had her appeal dismissed after she failed to show up to the hearing.
Susanne Ibru, of Peckham in south-east London, was jailed for 10 weeks in May after she was convicted of harassment.
The 38-year-old was also given a 10-year restraining order to stop her contacting Ferdinand and his family.
Warrington Crown Court heard she did not attend because she had a "bad headache and a cough".
In 2010 Ibru made 400-mile round trips to Ferdinand's Cheshire home on 21 February, 16 June and again two days later, the court heard.
Giving evidence on Tuesday, Ferdinand said he found it "harrowing and alarming" when Ibru arrived on the first occasion outside his house in February.
When she returned for a second time, he spoke to her at the front of the house until police arrived.
The footballer said he asked her why she was turning up at his home.
'Breach of human rights'
He said: "It's just really, really weird. I don't know. I just can't understand why she was doing what she was doing."
When asked if she was a Manchester United fan, she said she was not "just a fan" but "more than that", Ferdinand said.
Asked by Simon Mintz, defending Ibru, if there was any truth in his client's suggestion that they knew each other as youngsters in Peckham, Ferdinand replied: "No, not at all."
The court also heard that Ibru had been in contact with the footballer's mother at her church in London.
Mr Mintz said Ibru claimed the restraining order - banning her from entering football matches and events of which Ferdinand is a part - was in "breach of her human rights".
He said her behaviour had not amounted to harassment.
But Judge David Hale, dismissing the appeal, said police had warned her on the first occasion and told her not to return.
Ibru is banned from communicating with Ferdinand or his wife and is not to enter Alderley Edge.