A11 dualling in Norfolk and Suffolk 'moved forward'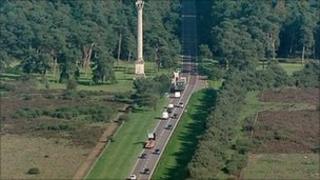 Work to dual the last single section of carriageway of the A11 through Norfolk and Suffolk could begin next week, BBC Look East has learnt.
The government plans to transform the nine-mile stretch of the road between Barton Mills and Thetford in a scheme set to cost £131m.
Work was due to start in the next financial year but could be moved forward, the BBC has been told.
Preparatory work on the scheme, lobbied for by local MPs, may start next week.
Business leaders and local MPs believe the dualled road will help boost the economy of the area.