Pension problems set to increase says MEP Vicky Ford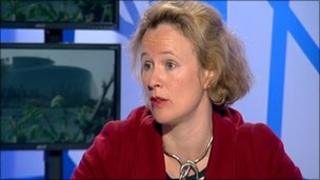 Vicky Ford's mother was born in 1937.
She was born in 1967 and her daughter, yes, was born in 1997.
The anecdote, as well as indicating a certain consistency in the Ford family, is a telling one, particularly when it comes to pensions.
For life expectancy has risen from around 60 in her mother's day to more than 80 now.
Who knows what it might be for the next generation?
As the number of centenarians increases dramatically, what is becoming clear is that pensions are a problem.
Private pensions
"We need to save earlier than previous generations," exhorts the Conservative member of the European Parliament for the East of England.
"One solution may be not to treat us if we are ill but I don't think that's very palatable.
"And Europe can't deal with it either," she explains.
"It doesn't harmonise pensions, they're all different.
"The French is state-paid. It is not pre-funded and relies on future generations footing the bill, which is totally unsustainable.
"While Poland tried in 1999 to move to a pre-funded system, the Dutch have the highest number of private pensions in the OCD.
"I would like the transparency of the Netherlands, where 42,000 companies operate schemes.
"One of the problems we have is the balance between what we've saved and what we're entitled to."
Wasn't there a bloke who used to talk about that kind of prudence?
Name was... Brown, wasn't it?