Suffolk sewage tanker crash train still not repaired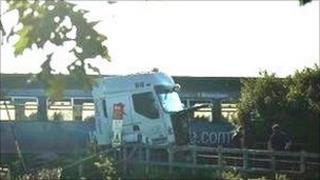 A train badly damaged in a collision with a sewage tanker on a branch line in Suffolk more than a year ago has still not been fully repaired.
National Express East Anglia said the two-carriage train suffered serious damage to the chassis in the crash on the Sudbury line in September 2010.
The operator subsequently ran out of local trains and drafted in two 50-year-old locomotives to haul carriages.
This month two replacement trains hired from Arriva Wales will be brought in.
Peter Meades, from National Express East Anglia, said the repairs to the damaged train have so far taken more than six months.
"They've had to rebuild a lot of the underframe," he said.
"One of the vehicles is complete and finished, but the other is still being worked on."
Enthusiasts visit
The 50-year-old replacement train - used on the Norwich to Great Yarmouth line - has attracted rail enthusiasts from across the country.
Darren Garman told BBC Norfolk he had travelled overnight on the sleeper from Penzance just to take a ride on it.
"The locomotives at the front and back are both 40 or 50 year old locomotives," he said.
"They are two examples of 30 or 40 remaining what we call Class 47 locomotives. There used to be 500 or 600 of them and they are very rare on service trains on today's railways."
Mr Meades said the last scheduled service for this train was planned to be on 28 October, when it will be replaced by a two-car unit.
He said that the company had been using carriages normally seen on mainlines.
"Although we have a reserve of spare carriages, we've had to be more flexible with the way we deal with maintenance cycles to release them to operate on the local services."
In November 2010 the driver of the sewage tanker which collided with the train - Arvydas Bartasius, 38, of Littleport, Cambridgeshire - was jailed for 15 months after admitting endangering safety on the railway.