Derby and Forest legend Brian Clough's enduring appeal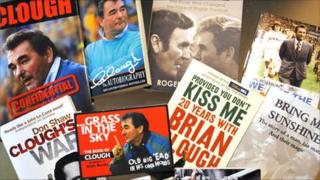 Brian Clough was never short of an opinion - even when it came to how he wanted to be remembered after his death.
"I want no epitaphs of profound history and all that type of thing," Clough said.
"I contributed, I would hope they would say that, and I would hope somebody liked me."
The former Derby County and Nottingham Forest manager died seven years ago but there is no sign of him ever being forgotten.
Since last year seven books have been written about the man famously nicknamed Old Big 'Ead.
Next year the National Football Museum reopens in Manchester and Clough will be a prominent figure in their new managers exhibition.
A spokesman for the museum said they recognised Clough as "one of the top managers who has ever worked in the Football League".
What is the enduring appeal of the man?
Journalist Marcus Alton has just released his second book about Clough - a compilation of stories titled The Day I Met Brian Clough.
He said: "He was outspoken but entertaining as well. When he spoke, people listened.
"A TV producer once said you could get him to read the telephone directory and people would still tune in.
"You never knew what to expect with Cloughie. He could give interviewers some real stick but then again you could come out of interview with absolute gold dust."
Clough once uttered the immortal line: "I'm not saying I was the best manager in the business. But I was in the top one."
Sayings like this, according to the National Football Museum, "cemented him as one of the characters of the wonderful game."
Daily Star journalist Dave Armitage has also released a second book of stories titled Clough Confidential.
'Massive impression'
He said he often pondered how Clough would have managed players like Manchester City's Carlos Tevez.
Mr Armitage said: "You still get hard-bitten journalists and news men who say 'how do you think Cloughie would have dealt with that?'
"He's still around because he made such a massive impression."
Mr Armitage added that the modern game could do with a Brian Clough.
He said: "I wish a lot of them would [deal with the media] like he did.
"At times, if he was in awkward mood you would walk away with nothing. But there was no one more acutely aware of what a story was [than Clough]."
How many more stories are left about Clough that have not already been told?
Mr Alton said: "New stories are coming out all the time from players and people who knew him.
"Wherever there's an appetite, new books will always come available.
"Fans [of Nottingham Forest and Derby County] like to look back to the glory days - especially when things aren't going well on the pitch at present."
Clough's management methods at times could have been described as unorthodox.
He once admitted to punching footballer Roy Keane in the stomach, saying "He got up so I couldn't have hit him very hard."
Mr Alton said: "That was the magic of the man. You never knew quite what to expect."
It seems clear that for as long as people remember Brian Clough the stories and books will keep coming.