Crewe railway station blast pair tell of 'sheet of flame'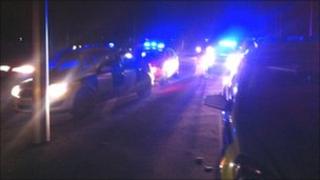 A couple injured in an explosion caused by faulty underground cables near Crewe railway station have said they thought they were going to die.
Stuart and Dawn Kay, from Crewe, were walking to a car park on 28 September when a series of blasts blew the manhole cover off in front of them.
Their hands and arms were burnt as they protected their faces from the flames.
They fell to the floor and narrowly escaped a second blast that shot out a second ball of flame above their heads.
Mr Kay said he had gone to the station to pick up his wife, who had been travelling back from the Labour Party conference in Liverpool.
'Ferocious explosion'
The couple were walking along Nantwich Road to the station's short-stay car park when a manhole cover shot up in front of them at about 20:20 BST.
Scottish Power said an "exceptionally rare" underground fault had caused the explosions.
Mrs Kay said: "We saw a sheet of flame rising up in front of us and we heard a sound similar to a massive blowtorch going off.
"I started screaming and we both instinctively raised our hands to cover our faces, which is where we got burnt the most."
They started to run away, when Mr Kay pulled his wife to the ground and held her there moments before a second explosion blew off another manhole cover.
"As we were [lying] there the flames shot over the top of us, we could see them above our heads," Mrs Kay added.
Mr Kay said: "A few seconds earlier... we would probably have been either badly burned or dead, it was that ferocious an explosion.
"It went up to about 10ft to 12ft, mushroomed out. I'm sure there was gas in it somewhere because of the way the ball of flame was alive, it was moving and then it decided to come towards us."
Mrs Kay said: "When we were lying on the ground, I think we both thought that was the end."
They managed to pick themselves up and get out of the way of the advancing flames but are still recovering from burns caused by the first blast.