Rare fish and prawn spread west into Devon and Cornwall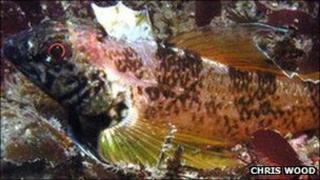 Divers have recorded a species of prawn and fish off Devon and Cornwall for the first time, the Marine Conservation Society has said.
The black faced blenny and the anemone prawn were found during the summer as divers surveyed the coastline.
In 2011, the blenny was photographed off the Lizard, and the prawn was seen off Babbacombe, the society said.
Both species have recently arrived in the UK and have spread along the south coast of England, the society added.
Chris Wood, from the Marine Conservation Society, said "They seem to be spreading in suitable habitats along the coast."
Both species are found in shallow seas around mainland Europe, but Mr Wood said he was unsure how they arrived off the English coast.
"They clearly find the water warm enough to survive, which may not have been the case in the past."
The society said that the blenny and prawn were first seen in British waters in Dorset.
The blenny was first discovered in 1977, and the prawn in 2007, it added.
Volunteer divers from the Seasearch programme made the discoveries.
The project is co-ordinated by the Marine Conservation Society.