London 2012: Sir Steve Redgrave backs leadership scheme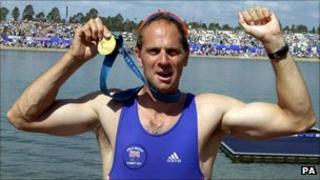 Olympic legend Sir Steve Redgrave has launched a Sport England programme which aims to inspire volunteers to become involved in sport leadership.
It is hoped more than 40,000 people will spend at least 10 hours on sport activities under the Sport Makers plan.
Some participants in the project, which is backed by the British Olympic Association and £4m of National Lottery funding, may also get Olympics tickets.
"I want to see people enjoying what sport has to offer," said Sir Steve.
"You don't need medals to become a sporting hero. By helping people you know to get involved in sport, you'll be doing something amazing for your friends and local community as well as having fun yourself."
Sport Makers is part of the Places People Play London 2012 legacy programme, which aims to promote the Olympic and Paralympic Games across the country.
Everyone who takes part will be trained and given chances to get involved with organisations who need their help in their local area.
Richard Lewis, chair of Sport England, said: "This is a great chance to get involved in making sport happen, whether that's planning the route, finding the pitch or encouraging others to take part. Please join in and become part of the legacy of the London 2012 Games."
Hugh Robertson, Minister for Sport and the Olympics, said: "The volunteers that help out at local sports clubs up and down the country are the foundations of community sport."
The Sport Makers project is just for England, but the other home nations' sporting bodies are also trying to encourage people to become more involved.
Sport Scotland is involved in a number of nationwide projects like National School Sport Week and Young Ambassadors, which aims to raise participation in sport and promote Olympic and Paralympic values and the Games themselves.
One of its legacy commitments around the 2014 Commonwealth Games in Glasgow is Community Sport Hubs, which aim to engage more people in sport and develop sustainable community sport.
Sport Wales ran a campaign last year called Behind Every Star to recognise the contribution that volunteers make and to raise the profile of coaching and volunteering.
Spokesman James Owens told the BBC: "Top sportspeople in Wales - including Jamie Roberts and world champions Dai Greene and Helen Jenkins - were photographed with a coach of their choice. The exhibition then toured communities across Wales to inspire those in the community to consider lending a hand.
"This will be built upon next year as Sport Wales and its key partners drive towards the ambition of doubling the number of volunteers by 2016."
Olympic advocates
Sport Northern Ireland is hoping to build a participation legacy through their Activ8 and Active Communities programmes.
Around 100,000 children have taken part in Activ8, a campaign to promote the value of completing 60 minutes of physical activity every day as one of eight steps towards a healthy lifestyle.
The Active Communities project will put £13.5m into community sport over five years, to allow another 100,000 people to participate in sport and physical recreation.
The national body is also setting up a squad of 35 Olympic advocates to get everyone in Northern Ireland to be more active.
Doubts have previously been expressed over whether the promised sporting legacy for the UK would be achieved from hosting the Olympics.
In September, British Olympic Association Chairman Lord Moynihan warned that the country was "a long way from delivering a step change in sport".
"I want to see the bricks and mortar that will be the lasting sports legacy. More pitches, changing rooms and playing fields not being sold off," he said.