Dungeness anglers fear losing access to beach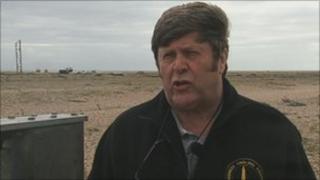 Anglers fear plans to move thousands of tons of shingle on Dungeness beach will cut off access to one of the most important cod fishing spots in Britain.
EDF Energy and the Environment Agency want to move the shingle to protect Dungeness nuclear power station and nearby Camber from erosion and tsunami.
"The application is quite scary. It mentions the F word - fencing," said angler Tony Hills.
The agency said it would only fence off a small area while work was under way.
Dungeness, one of the largest shingle landscapes in the world, is a designated National Nature Reserve, Special Protection Area and a Special Area of Conservation.
Shingle has been used to protect the power station since it was built in the 1960s but since 2007 it has been brought in from elsewhere.
The defences also protect the village of Camber in East Sussex.
Now a planning application is being considered by Kent County Council to use the cheaper option of taking material from an area east of Dungeness Point.
EDF and the Environment Agency each want to take up to 30,000 cubic metres every year until 2023.
'Vital for economy'
"The application shows a map which could actually close off our bit of beach, which is 600 metres of the most important cod fishing spot in the whole country," said Mr Hills, spokesman for Dungeness Angling Association and a Shepway councillor.
"We have tens of thousands of anglers every year and it is vital for the local economy.
"Without that winter income we would be in serious trouble locally."
Ian Nunn, South Kent asset manager for the agency, said it did not intend to cut off access to the beach.
"We have to work really hard to make sure we do not damage the environment," he said.
"This is a spectacular site in terms of world conservation so we are monitored very closely by Natural England.
"We have to put working methods in place to make sure there is no damage."
"We have always said we will probably have to fence off a small area around the loading area on one part of the beach.
"There will always be access to the rest of the beach and when we are not working that fencing will be gone and people will have full access to the beach."