Fancy dress robber targets bookmakers across England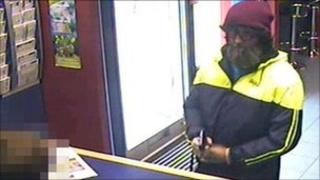 A man suspected of carrying out armed robberies at 11 bookmakers while wearing fancy dress disguises has been named by police.
Sussex Police believe Martin Joseph Reilly, 53, is using the railway to travel to betting shops and target them as they open up.
Firms in Essex, Hampshire, London, Surrey, Sussex, Northamptonshire and Bedfordshire have been targeted.
Det Insp Ian Still, of Sussex Police, said more than £20,000 had been stolen.
The Association of British Bookmakers has offered a reward of up to £10,000 for information that will lead to an arrest and conviction.
Det Insp Still said police were publicising Mr Reilly's name and photograph in the hope it would prompt people who know him or recognise him to come forward.
"What is distinctive about him is that he uses fancy dress disguises - wigs, hats, false beards, moustaches and sideburns - to alter his appearance and to hide scarring on his cheeks, particularly horseshoe like scarring on his left-hand cheek," he said.
He said the 11 incidents, which included robberies and attempted robberies, were being linked because of the suspect's use of disguise and his modus operandi.
Police said the robber "almost always" struck as shops opened, and armed himself with a knife or gun to threaten staff.
It is not know if the gun is imitation or real, detectives have said.
Det Insp Still said: "Fortunately to date, Reilly has not harmed staff or members of the public during any of the robberies, but we would still advise people to not approach him but to contact police immediately should they see him."
Mr Reilly is described as white, 6ft 1ins (1.85m), of medium build, with blue eyes, a shaven bald head and scars on each cheek.
In the past, he has lived in Corby, Kettering and Croydon and is known to visit Killburn, police added.
He is also known to use other names such as Martin McAuley, Martin Anderson and Martin O'Reilly, police said.