John Peel's widow joins local band event in Norwich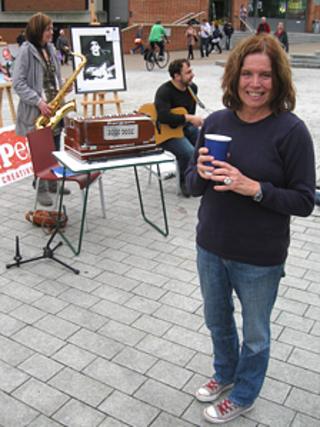 The widow of the late broadcaster John Peel has joined local bands to mark John Peel Day in Norfolk.
Sheila Ravenscroft celebrated the work of the former BBC Radio 1 DJ by hosting a two-hour acoustic event outside The Forum, Norwich, on Thursday.
Bands including Cutback and Crumbs for Comfort performed to crowds of people that formed on Millennium Plain to pay tribute.
Mr Peel died while on holiday with Mrs Ravenscroft in Peru in 2004.
Thursday marked seven years since Mr Peel's final radio show. He died almost two weeks later on 25 October after suffering a heart attack.
'John's legacy'
The 65-year-old was Radio 1's longest serving DJ and seen as highly influential in bringing under-the-radar artists into the mainstream.
Mrs Ravenscroft also used the Norfolk event to raise awareness of the John Peel Centre for Creative Arts, set to re-open in November near the couple's home in Stowmarket, Suffolk.
Speaking about John Peel Day, now in its sixth year, Mrs Ravenscroft said: "I think it's wonderful. It always surprises us that people still remember him.
"I think it's too easy to slip into mainstream music and the rest of music isn't heard, so I think it's important that John's legacy carries on."
Simon Taylor from Norwich group Cutback said: "It's great to be part of the memory and long may it continue that other people follow in his footsteps."