The man who helped create Dale Farm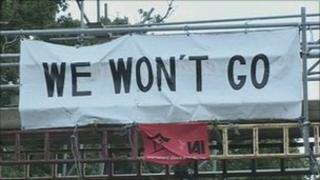 As the legal wrangle over the illegal part of the huge travellers' site at Dale Farm in Essex nears a conclusion, BBC Inside Out has talked to the man who helped develop a legal step in planning law which allowed the first caravans to settle on the site.
Last week the High Court ruled Basildon Council can remove caravans from 49 out of 54 plots at the Dale Farm travellers' site once outstanding legal issues are resolved.
Although another hearing is taking place on Monday, it is expected that evictions will start in the near future.
But part of the site has planning permission and will continue to house a sizeable traveller community.
Robert Home, now professor of land management at Anglia Ruskin University, developed a case that was successful in legal appeals by travellers in Hertfordshire in the 1980s.
As an expert in planning law, he was later involved as a consultant in fighting appeals for the first two plots on greenbelt land near Oak Road, which is now the southern boundary for the area known as Dale Farm.
"I was first involved when two Gypsy families wanted planning permission for single family plots down Oak Road and we fought it against Basildon Council and we were successful," he said.
"I think they were the first ever Gypsy caravan pitches to be allowed here in the greenbelt and then the Dale Farm development started later."
Honey pot effect
Prof Home said that although it was in the greenbelt, even 30 years ago the area was described as mixed use.
"There were houses down this part of Crays Hill that were actually in the greenbelt, small rural businesses here, then the Gypsy caravans came in," he said.
"But there had always been Gypsy caravans in and around Basildon."
The east of England has 11% of the general population of England, but 23% of its Gypsy caravans.
For years, the region has had a higher proportion of Gypsy caravans than any other region and Essex has been top of the list for the number of unauthorised caravans of all the counties.
The law relating to travellers sites changed in 1994. Until then, councils had a legal obligation to provide travellers sites.
The new law encouraged travellers to buy their own sites and apply for planning permission.
Dale Farm appeared to be the solution for many travellers.
'Tiny figure'
It has been described as a honey pot effect because some families had permission and then others followed.
As the site grew, the council stopped granting planning permission but travellers claim there are no alternative sites.
Malcolm Buckley, from Basildon Council, said: "I've spoken to other councils, they said 'we saw what happened to you and we're not prepared to run that risk'.
"So I think travellers have abused the planning laws and spoilt their chances of getting sites."
Since his first involvement 30 years ago, Prof Home has studied travellers all across the country.
He said the whole issue had been blown out of proportion.
"Gypsies are about a 10th of 1% of the population and in the eastern region there's a need for 1,200 pitches," he said.
"That is a tiny figure in relation to the general housing targets. You could fit those sites on to one district council's housing target."
Inside Out - Monday 17 October 19:30 BST BBC1 East and iPlayer.