TV Licensing staff strike in pay dispute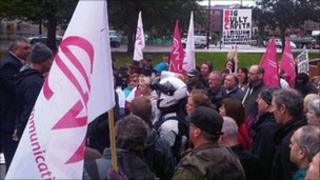 A TV Licensing staff 24-hour walkout over pay was strongly supported, claim union leaders.
More than 100 staff at Darwen, Lancashire, and 100 in Bristol went on strike after a ballot by members of the Communications Workers Union (CWU).
The CWU said workers had been offered a below inflation pay rise of 2.6%, following a two-year pay freeze.
Employer Capita said workers had received a "good and fair offer" in light of the economic climate.
'Increased bills'
CWU Assistant Secretary Andy Furey said: "Our members at Capita TV Licensing are facing a pay cut in real terms from a company which makes millions in profit every year.
"We're asking for a simple improvement in their pay offer which at 2.6% is almost half the rate of inflation.
"The last thing our members want is strikes, but the employer has left people with no choice.
"They are facing increased food, energy and transport bills, and work for a company which can afford to reward its staff with fair wages."
A Capita spokeswoman said the company believed the offer was fair, especially as many other private sector organisations had had to bring in pay freezes.
She added: "We are therefore disappointed that staff are taking industrial action but have taken measures to help ensure that we continue to offer a good level of service during the action to minimise the impact on customers."
TV Licensing maintains a database showing which households have television licences, and enforces collection of licence fees.
The strike started at 07:30 BST on Monday.