Funding bid to improve Dartmoor and Exmoor transport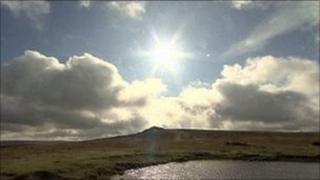 A £4.5m funding bid is being submitted to the government to get better public transport on Dartmoor and Exmoor.
The partnership behind the scheme said the money would pay for an improved bus and rail service.
The proposals are being submitted to the government from the National Parks, Devon and Somerset County Councils and the South West Tourism Alliance.
The partnership said it wanted to lower carbon emissions and get more people on the moors without using their vehicles.
If the bid is successful, it wants to introduce more rail services on the Exeter to Okehampton line and the West Somerset Railway along the Exmoor coast.
The partnership also wants to create electric bike hire opportunities and improved routes for walkers and horse riders.
'Important resource'
Councillor Stuart Hughes, Devon County Council's cabinet member for highways and transportation, said: "Dartmoor and Exmoor national parks welcome about five million visitors each year.
"They [the moors] are an important natural resource as well as a huge contributor to the local economy. For example, in Dartmoor visitors spend about £111m a year."
Mr Hughes said the money would "enhance the frequencies of local services" which would benefit visitors and residents.
A consultation period will be held and Devon County Council said the plans would be submitted to the Department for Transport before the end of the year.