Albanian man falls to death from Eurostar train in Kent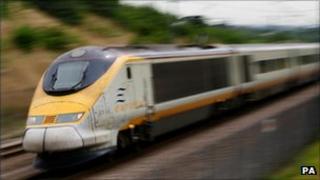 A man has fallen to his death from a high-speed Eurostar train as it travelled through Kent.
Police said the Albanian was returning to mainland Europe voluntarily having been refused entry into the UK.
The 22-year-old fell from the 17:04 BST London to Brussels service as it passed through Cheriton in Folkestone, near the entry to the Channel Tunnel.
The line was shut for several hours after the death and delays continued into the evening on Eurostar services.
'Non-suspicious death'
A spokesman for British Transport Police (BTP) said: "It is believed the deceased is a 22-year-old Albanian national who had entered the UK today from Brussels and was returning voluntarily after being refused entry."
BTP said paramedics also attended the incident after the alert at 17:50 BST but the man was pronounced dead at the scene.
A BTP spokesman said the incident was being treated as non-suspicious but the coroner's officers would be working to establish the full circumstances leading up to the man's death.
Police are trying to contact the man's family, he added.
Conservative MEP Richard Ashworth, who was on the train when the man fell, is calling for an investigation into how the incident happened.
He said: "It defies logic that somebody was able to get a high speed train door open unless there were a serious emergency.
"I hope that Eurostar will launch an internal inquiry to see if changes need to be made to their trains to prevent this from happening in the future. "
Pathetic communication
He also criticised Eurostar's communication with passengers.
"Of course, unforeseen events do occur when travelling and not every Eurostar journey will go without incident.
"However, the level of information supplied to passengers was pathetic, apart from the odd pointless announcements there was nothing."
He added: "We relied entirely on Twitter updates from the train behind us for information on what was going on."
A Eurostar spokesperson explained that trains are fitted with instructions on how to exit in case of an emergency. Once the plastic cover is removed to access a lever, an alarm is sounded and the train automatically stops.
In a statement the company said: "In over 17 years of operating services, this is the first time we have seen a situation whereby a passenger has chosen to deliberately and physically breach these systems and force an exit from a moving train."
It added: "In line with the relevant European legislation governing high speed rail travel in the UK, France and Belgium, the multi-layered safety systems on Eurostar trains are designed to offer passengers the greatest level of protection whilst also allowing the possibility of a safe exit in an emergency."
No formal identification of the man has taken place, but the UK Border Agency confirmed he was not being deported by its staff.