Cornish choughs spread towards Devon border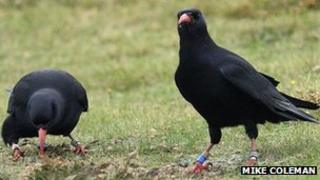 The Cornish chough has expanded its range into mid Cornwall and in the next decade the species could be breeding in Devon, the RSPB has said.
Choughs that were born in west Cornwall are now living on cliffs between Perranporth and Padstow, it said.
The species returned to Cornwall in 2001. About 21 choughs currently live in the county.
The RSPB said it expected birds from populations in Cornwall and Wales to re-establish the species in Devon.
Claire Mucklow, from the RSPB's Cornwall Chough Project, said it was difficult to predict when the population would cross the Cornwall-Devon border.
She said it depended on how well the population in south Wales was doing and when the birds would start to search for nest sites further afield.
The species was historically found at a number of locations in Devon, including Morte Point, Ms Mucklow added.
The chough, a rare member of the crow family, has distinctive red legs and a long red bill.
There were more than 100 pairs in Cornwall but the bird vanished after its food source dried up because of a decline in cliff-top grazing and the use of pesticides.
It eventually disappeared from the county in 1973.