Hillsborough disaster: Liverpool MP criticises judge's remarks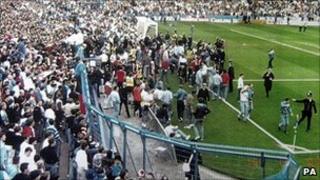 A Liverpool MP has criticised a judge who called on Hillsborough families to act more like the relatives of victims of the Bradford City stadium disaster.
In a letter to The Times, Sir Oliver Popplewell called on the families to look at the "quiet dignity and great courage" of the Bradford families.
Sir Oliver chaired the public inquiry into the Valley Parade fire in 1985.
Walton MP Steve Rotheram said his comments about the families of the dead Liverpool supporters "beggared belief".
Ninety-five fans were killed in a crush of fans at Sheffield Wednesday's ground, where Liverpool was playing an FA Cup semi-final against Nottingham Forest, on 15 April 1989. The 96th victim was in a coma for three years and died in 1992.
The fire in Bradford, on 11 May 1985, claimed the lives of 56 fans.
Sir Oliver's letter followed a Commons debate on Monday evening, calling for all government documents - including cabinet papers - on the disaster and its aftermath to be released.
'Personal objection'
Home Secretary Theresa May re-affirmed the government's position that all papers would be released via the Hillsborough Independent Panel.
In his letter, Sir Oliver said: "The citizens of Bradford behaved with quiet dignity and great courage. They did not harbour conspiracy theories. They did not seek endless further inquiries.
"They buried their dead, comforted the bereaved and succoured the injured. They organised a sensible compensation scheme and moved on.
"Is there, perhaps, a lesson there for the Hillsborough campaigners?"
Trevor Hicks, president of the Hillsborough Family Support Group, who lost two daughters at the match, said: "No-one would like to move on more than the families. We've had to spend 22 years doing what we're doing."
"I take a certain amount of personal objection to [Sir Oliver's] inference, as I've always conducted myself in a fair and reasonable manner."
"He's perfectly entitled to his opinion but the reason we got the hearing at the House of Commons is we've always conducted ourselves in a reasonable fashion," he added.
'No real comparisons'
Mr Rotheram, whose Walton constituency includes Liverpool's Anfield ground, said it was inappropriate for Sir Oliver to comment because his expertise related to the Bradford disaster and not the Hillsborough tragedy.
"There are no real comparisons other than they happened at football ground," he said.
"There was no conspiracy surrounding the Bradford disaster. On that occasion the guilty parties were dealt with.
"With Hillsborough nobody to this day has been held to account for what has happened and so he is really having a go at us for trying to fight for justice and he is supposed to be a high member of the judiciary. It is unbelievable."
He said the comments reinforced the view that "the establishment don't want this to come out".
Mr Rotheram added that he believed the former High Court judge would have to make a full apology to people on Merseyside when the independent panel reports next year.
"I am sure in six months time when the report comes out, Lord Justice Popplewell will be forced to eat his words."