Fish friers reheat EU debate in fight for VAT cut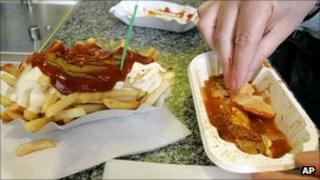 "If it's good enough for Hannover, it's good enough for Hagley."
The words, not of some crazed Europhile with grand designs on an all-embracing super state, but of Gregg Howard, the president of the National Federation of Fish Friers.
He is also the proud proprietor of a food outlet called 'Our Plaice' at, yes you guessed it, Hagley in Worcestershire.
Enter the unsung hero of the takeaway industry, a German hot dog seller called Manfred Bog.
Bog standard
Back in 1985, Herr Bog went to the European Court of Justice with what he hoped would be a test case.
He argued that since his principal offer to his customers was food rather than a service, the VAT charged on his hot dogs should be reduced to Germany's lower rate of 5%.
He won.
And his fellow friers throughout the land of the hamburger and the frankfurter have been grateful to him ever since.
But for us here in the UK, our traditional fish and chip supper attracts our higher 20% rate of VAT.
So Gregg reckons it's high time for us to follow Manfred's lead and bring Britain into line.
Like his hero Manfred he says he is prepared to take this all the way to the European Court if needs be.
After all, VAT was originally introduced in 1973 as an EU tax harmonisation measure - except that the UK's lower rate of VAT is 0%.
So if Gregg has his way, his fish and chips would be 'zero-rated'.
Food for thought
Now Gregg's campaign has some powerful backing. One of Britain's top accountancy firms KPMG has agreed to take it on.
One of its experts in the field, Peter Crush, says the way we tax food in this country is unnecessarily complex.
We should harmonise it around a much simpler European model.
So, Euro-zone leaders grapple with the looming calamity of the sovereign debt crisis; David Cameron faces the prospect of a backbench revolt in Monday's EU Referendum debate; and the fish friers fight for a fairer formula.
Proof, if ever it were needed, that the great debate about Europe transcends everything from our nation's destiny to a bag of chips.
Food for thought, indeed, for my guests on the Politics Show this week: Malcolm Harbour, Conservative MEP for the West Midlands; Emma Reynolds, the Labour MP for Wolverhampton North East who was recently appointed a Shadow Europe Minister; and Mike Nattrass, UKIP's MEP for the West Midlands.
And as usual, I hope you can join us too, from 12.00 on BBC One this Sunday, 23 October 2011.