Heather Cooper death: Policewoman beaten and stabbed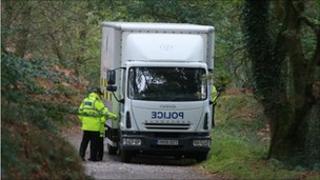 A female police officer whose body was found in a West Sussex wood died from a blow to the head and a stab wound to the throat, Surrey Police have said.
The post-mortem examination gave the preliminary cause of death as "blunt force trauma to the head and incised wound to the throat".
Det Con Heather Cooper, 33, a mother-of-two, was found dead in Blackdown Woods near Lurgashall on Sunday.
A knife and baseball bat were found at her home in West Street in Haslemere.
Surrey and Sussex Assistant Chief Constable Olivia Pinkney said she was "much loved" by her colleagues.
A 35-year-old former detective, who is believed to be her partner, has been arrested on suspicion of murder.
He used to be employed by Surrey Police, where Ms Cooper was a serving detective constable.
'Completely shocked'
Surrey Police said on Tuesday afternoon they had been granted a further 36 hours to question him.
ACC Pinkney said Ms Cooper, who was originally from York, was given a commendation by the force in 2009 in recognition of her "professionalism, dedication and commitment".
She added: "Heather's death has had a profound effect on all who knew her and we are doing everything we can to support her family at this difficult time.
"She was an exceptional officer and much loved among her police colleagues, many of whom were also her friends.
"The police service is in many ways like a family. The death of any officer is always a time of sadness but to lose Heather under such circumstances has been particularly hard to bear.
"I cannot praise enough the professionalism of Heather's friends and colleagues within the force, many of whom have continued to do their jobs at a time of personal grief."
Neighbours said Ms Cooper had a three-year-old child and a baby that was about one or two months old.
Surrey Police said she was on maternity leave at the time of her death.
One local resident, who did not want to be named, said: "Of course we're completely shocked. This is Haslemere, nothing ever happens in Haslemere.
"I think the most shocking thing is the destruction of a family... a family is utterly destroyed."
Anyone who saw a silver BMW estate car in the area of West Street, Haslemere, and Tennyson's Lane, near the Blackdown Woods car park, between 11:00 and 23:00 BST on Sunday has been urged to contact police.