Inquest into Keith Richards crossbow seige death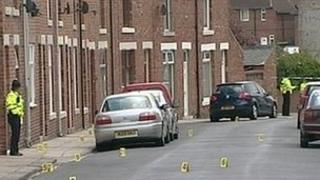 A man shot dead by police in County Durham had a "troubled" recent past, an inquest has heard.
Armed officers were called to Cheapside, Shildon, in May 2009 by reports that Keith Richards, 47, had fired a crossbow.
The father-of-two was hit by two bullets following a brief stand off.
His brother Stephen Richards told the inquest in Newton Aycliffe that Keith Richards had been suffering from mental health and financial problems.
A previous job at a school with difficult children had left him stressed, he had been a victim of crime, and serious debts had forced him and his wife to hand their home back to the bank.
However, in the days before he was shot, he had seemed to good spirits and was looking forward to their mother's birthday party, the inquest heard.
There was also evidence from pathologist, Dr Mark Egan, who said that Mr Richards was about three times over the drink-drive limit at the time of his death, and had taken prescription anti-depressants.
The inquest continues.