Keith Richards crossbow siege 'sparked by drink-drive arrest'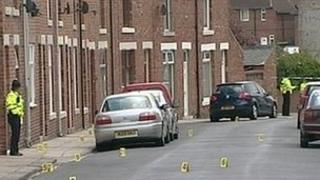 A man allegedly seen wielding a crossbow told police they had "ruined his life", just before a marksman shot him dead, an inquest heard.
Debt-ridden Keith Richards, 47, got into a stand-off with officers outside his home in Shildon, County Durham, early on 12 May 2009.
Neighbour Terry Allison told the Newton Aycliffe hearing the incident had been sparked by a drink-drive arrest.
The father-of-two was hit by two bullets following the brief stand-off.
Police had responded to reports that Mr Richards had fired the crossbow from his bedroom window after he earlier called officers to say he had "nothing to live for".
The inquest has heard toxicology results later showed Mr Richards had drunk so much that he was theoretically almost three times the drink-drive limit.
Loud bang
Next-door neighbour Mr Allison told the inquest he had been disturbed by the sound of raised voices.
After going into the back garden, he saw Mr Richards standing at the rear upstairs window of his home and was told: "Get back inside, Terry, this has nothing to do with you."
Mr Allison said: "He seemed to want to talk to a female officer. He kept shouting that the police had ruined his life."
He later heard a "loud bang" and saw a flash, then all was quiet next-door.
The jury of six men and five women was shown two crossbows, one which was said to have been found in the rear bedroom of the terrace house near to where Mr Richards's body was recovered, and the other one in a front bedroom.
The inquest, expected to last until the end of the month, continues.