Indian police officers visit West Midlands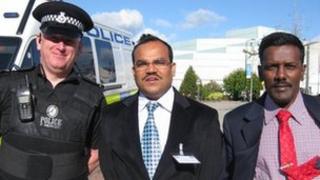 Eight police officers from India are visiting the West Midlands.
The trip aims to "improve understanding and confidence between local police and Indian communities", West Midlands Police said.
The officers will learn more about neighbourhood policing and the use of technology in handling emergency calls during their two week visit.
They have spent time in Coventry, Birmingham and Solihull.
'Law-abiding citizens'
The officers will also visit the Institute of Criminology in Cambridge and have been to University of Warwick as part of their trip, which has been funded by the Indian Police Service.
Each officer, from various states in India, has completed between 17 and 20 years of service.
Insp General Janardhan said: "We have all enjoyed the visit and been impressed with the punctuality and professionalism shown by our hosts.
"Most citizens here appear to be law-abiding with a good level of support for their police and also plenty of civic pride."