Secamb's private 999 ambulances cost criticised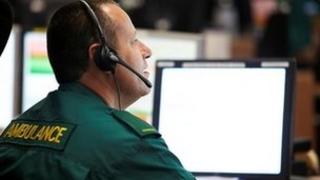 Patient representatives have expressed concern that millions of pounds are being spent by the NHS on private ambulances in the South East.
South East Coast Ambulance Service (Secamb) spent £7.8m in the past three years on private contractors, figures obtained by the BBC show.
Secamb said it used private providers and volunteers at times of high demand.
But Mike Eddy, from Kent Local Involvement Network (Link), said it would be cheaper to use NHS ambulances.
Secamb, which covers Kent, Surrey and Sussex, is one of only five NHS ambulance trusts in England which currently uses private companies to answer 999 calls and to take patients to hospital for outpatient appointments.
'Flick a switch'
Last year it sent private ambulances to more than 7,000 emergency incidents at a cost of £1.77m, which Secamb said was part of an annual budget of approximately £165m.
The calls represented 1.71% of the total number.
James Pavey, senior operations manager, said external companies were used because of rising pressures on the service and tough new targets set by the government in 2008.
"When you dial 999, if your call is assessed as being serious and life threatening, then we have eight minutes to get to you and we have to do that 75% of the time," he said.
"It is a very challenging target.
"You can't flick a switch and produce paramedics out of thin air. They take a long time to train.
"Our objective is to phase (private companies) out gradually as we recruit more paramedics."
Mr Eddy said the need for extra capacity was understandable.
"Most people just want to get to hospital when there is something wrong," he said.
"But what does concern me is the amount of money spent on private providers when perhaps what the ambulance service should have been doing is making sure that they have got the right kit and the right people to deliver the service."