MP demands end to £10 Oxbridge masters degrees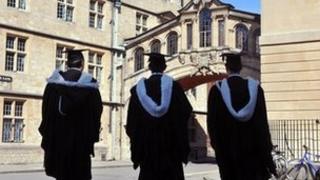 The practice of allowing Oxford and Cambridge students to upgrade bachelor's degrees to masters for £10 should end, a Labour MP has said.
The complementary degrees are awarded to students after a certain period has elapsed since entering university.
Nottingham East MP Chris Leslie said "the utter lack of merit behind this apparently great award is unfair".
An Oxford University spokesman said the masters was not an upgrade but part of a historic tradition.
But Mr Leslie, who was putting forward his Master's Degrees (Minimum Standards) Bill in the House of Commons said more than 60% of employers were unaware of the practice.
He added: "In contrast, the vast majority of ordinary postgraduate students have to actually earn their master's degree the hard way, often paying a £4,500 or higher tuition fee, studying for a year or more, completing coursework, exams and so on.
"And many completing their master's degrees are completely unaware that they could be competing for future employment with candidates declaring their MA (Oxon) or MA (Cantab) at the head of their CV.
"Is this really fair? Clearly not."
'Bygone era'
At Oxford University the masters degree can be granted 21 terms after entering university. At Cambridge the period is six years after the end of the first term.
Universities minister David Willetts warned of interfering with the independence of universities.
Mr Willetts, who has an Oxford MA, said there was no evidence that employers were confused about the awards.
He said: "In order for us to act, as well as having to be persuaded of this problem of confusion, we would also have to be taking a significant step further towards intervening in the internal arrangements of these universities."
Mr Leslie graduated from Leeds University with a BA in politics and parliamentary studies in 1994 before studying for an MA in industrial and labour studies for two years.
Speaking to the House he said the Oxbridge MA degrees were "one of the most Byzantine relics of a bygone era".
An Oxford University spokesman said: "'There is no attempt on the part of the University to misrepresent the nature of the Oxford MA.
"The Oxford MA is not an upgrade of the BA, an additional qualification, or a postgraduate degree.
"It is instead a historic tradition marking seniority within the University."