MPs join forces over Ashford to Hastings rail closure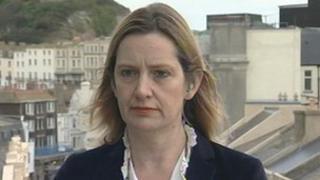 Three Conservative MPs have voiced their concern at the planned closure of a railway line between two East Sussex towns for nine weeks from January.
Network Rail wants to close the line between Rye and Hastings from January to March for repairs on the Ore Tunnel.
It will affect Southern rail services between Ashford in Kent and Hastings.
Damian Green (Ashford), Greg Barker (Battle and Bexhill), and Amber Rudd (Hastings and Rye) have written to Southern and Network Rail.
Ms Rudd said although she welcomed the "much needed investment" in the railway line, she was concerned at the length of the closure and the disruption it would cause for commuters and school children.
"They need to think again, on behalf of the commuters and their passengers, and I'd like them to consider compensation as well," she said.
'Unacceptable closure'
Damian Green added he believed the line did not need to be closed for the entire period.
"Why does it have to be closed for nine weeks, and why does it have to be closed along its whole length to do one repair?
"I see no reason why parts of the line shouldn't be kept open," he said.
Hastings Borough Council has also urged Southern to rethink its decision.
Jeremy Birch, the leader of the Labour-run council, has described the closure as "frankly unacceptable".
The rail company said it would operate replacement bus services between Hastings and Ashford International in Kent during the week and at some weekends.
"We know this work will be disruptive for passengers but it is essential, and we have looked long and hard at how to best keep passengers moving during this difficult time," it added.