Stone Roses singer Ian Brown admits speeding at 105mph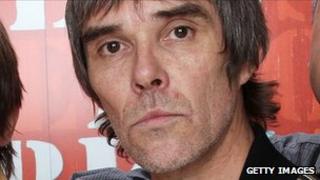 Stone Roses singer Ian Brown has been given a fine and penalty points after admitting driving at more than 100mph.
At Chester Magistrates' Court, Brown, 48, from Lymm in Cheshire, pleaded guilty to speeding.
He was stopped at 00:35 BST on 25 April on the northbound M6 motorway in Cheshire after being recorded doing 105mph.
The singer, who is touring next year with the reformed band, was fined £650 and given six points on his licence.