Virgin West Coast Mainline cleaners in strike over pay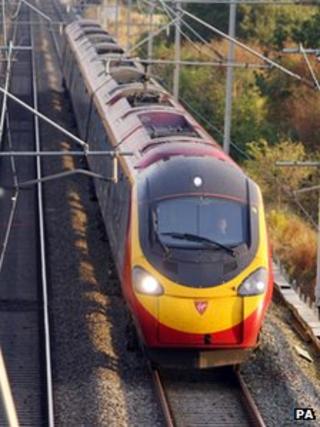 Cleaners on Virgin Trains' West Coast Mainline service are staging a 24-hour strike in a dispute over pay.
Picket lines are expected at stations across the UK, from London to Glasgow.
The Rail Maritime and Transport (RMT) union members work for Carlisle Cleaning and Support Services, which is "disappointed" by the walkout.
Stations on the line also include Birmingham New Street, Crewe, Manchester Piccadilly, Liverpool Lime Street, Preston and Carlisle.
Cleaners are protesting at a below-inflation pay offer as well as moves to de-recognise the RMT, the union said.
They will also refuse to empty train effluent tanks or refill fresh water tanks for 48 hours, from the evening of 4 November.
'Justified anger'
Carlisle said it had "worked hard to try to arrive at an agreement" ahead of the strike, which it claimed would have no impact on services.
The RMT said 94% of members employed by the company voted in favour of action.
However, Carlisle said only 36% of the workforce on contract voted in favour and that most members of staff, including RMT members, wanted to support the offer and would work as normal.
RMT general secretary Bob Crow said: "Carlisle should understand that our members are not prepared to tolerate low pay and poor conditions any longer from a company that makes millions on the backs of their work.
"With a 94% vote for action and a doubling of RMT membership since this dispute began, Carlisle should recognise the justified anger of its staff."
The company said the RMT rejected an offer which included a 1% pay rise from 28 August, another 2% to be paid in November and a further 2% in January.
The pay increase would be a total of 5% by the start of next year, it added.
"In addition to this, we are willing to talk with the RMT about union recognition, and we are also willing to talk to them about additional payments for chemical effluent tank and roof cleaning work," a spokesman said.
He added the company wanted to talk about providing staff with a package which includes hospital benefits plan, additional accident insurance and discounts on holidays, flights and shops.
"We believe that in the current economic climate this is a fair a reasonable offer," he said.
Carlisle said it has agreed to start pay negotiations for April 2012 in the new year.