East Midlands boundary reshape plans criticised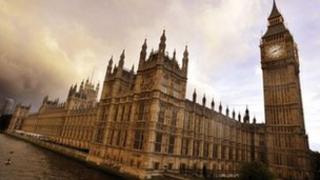 Politicians in the East Midlands have criticised Boundary Commission plans to change constituency areas there.
Labour and the Liberal Democrats have supported part of the plans - to cut two MPs between Nottinghamshire, Leicestershire and Derbyshire.
But all three main political parties have said they are against plans to change the seats of Derby North and South to Derby East and West.
The commission aims to reshape the UK's parliamentary constituencies by 2013.
By the next general election, the independent body has said it hopes to cut the number of MPs by 50 across the UK.
The remaining constituencies would become a similar size with every MP representing about 75,000 people.
'Disconnected with reality'
In the East Midlands, the commission recommended that parts of North West Leicestershire should be joined up with parts of Nottinghamshire - losing one MP.
That move has been criticised by Labour and the Liberal Democrats.
Ray Cook, a Labour Party official, said the plan for that seat was "poorly shaped". However, he said Leicestershire should share a seat with South Derbyshire or Northamptonshire.
The Conservatives said the idea was the "best-worst" option.
Similarly, Labour and the Lib Dems said they were confused about plans to move Gotham village into the Broxtowe constituency in Nottinghamshire, despite it being on the other side of the River Trent, and several miles away by car.
Derby city councillor Lucy Care, who sits on the Lib Dems' policy committee, said: "We feel that they [Boundary Commission] are disconnected with reality on the ground."
'Desktop exercise'
Chris Williamson, Labour MP for Derby North, said: "Derby North and South have been in existence since 1950s, since the constituencies were created, and that is something the Boundary Commission should respect."
If the proposals get the go ahead, two Derbyshire constituencies, Amber Valley and Mid Derbyshire, would be merged to become one - resulting in losing one MP.
None of the political parties are challenging the merger, but there are some arguments over what it should be called. The Conservatives are calling for several seats to be renamed.
The commission has said it would take on board politicians' views about the boundary changes, but would need further convincing to make any changes.
A public consultation into the plans is due to end on 5 December.