Concern over welfare reforms raised by MPs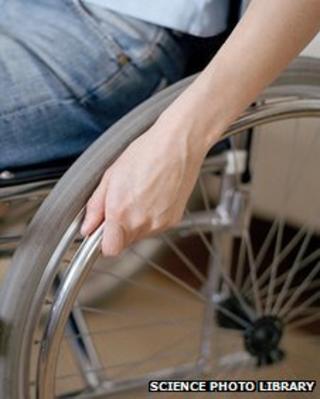 The latest poll findings on our attitudes to benefits are revealing.
The vast majority of us want the welfare state as a financial safety net, yet three-quarters of those questioned in the BBC commissioned survey want the benefits bill cut.
The government is planning big changes to the benefits system and it's already having its impact.
To get a better understanding of how it's affecting some families, I met the Mitchells from Arnold in Nottinghamshire.
Losing benefits
Single mum Sarah is a full-time carer for her two sons. Andrew is autistic.
His younger brother Josh suffers from attention deficit disorder.
But Sarah faces losing £300 a month in benefits.
Also Andrew, who is nearly 18, will lose his Disability Living Allowance unless he undergoes a face-to-face assessment for work.
"Andrew's obviously got complex needs and he won't be able to cope with the interview and what they will be asking him," Sarah told me.
"The government really need to reconsider what they are doing because there are lots of families in this situation."
The National Autistic Society also questions why each sufferer - whose condition is already well documented by health professionals - requires a further assessment under new benefit changes.
The Mitchells aren't alone. Other cases of benefit cuts have been raised in parliament.
'Constant worry'
Ashfield MP Gloria De Piero raised the case of 69 year-old Gerald Granger in the Commons.
He's a retired lorry driver from Kirkby in Ashfield.
He received Disability Living Allowance (DLA) for seven years, until the payments stopped last Christmas.
He's unsure of the reason why and has lodged an appeal, although benefit assessors told him he had made sufficient recovery from a double hip replacement operation.
"There are so many that have had their benefits stopped and are appealing. There's an 18 month backlog. It's a constant worry," he said.
Losing the allowance means he can no longer afford paying towards his car under the motor mobility scheme for disabled drivers.
The vehicle is returned next week.
"I can hardly get about on my support crutches and the nearest shops are over a mile away. Without the car, my house will feel like a prison," he said.
Independent lives
The DLA is replaced in 2013 by the new Personal Independence Payment (PIP).
The Department of Work and Pensions says that it will support those individuals who experience the greatest challenges to living independent lives.
There are now 3.2m people claiming Disability Living Allowance.
In the past eight years, the figure has risen from 2.5m. That's an increase of almost 30%.
People claiming the Personal Independence Payment will have to be assessed all over again.
The Work and Pensions minister Chris Grayling summed up the government's thinking in a Commons debate:
"It will be much easier for people with disabilities to move back into work, initially step-by-step, by doing a few hours work and then by entering part-time and eventually full-time employment.
"It will transform their prospects."
Saving money
I visited the Chesterfield-based advice centre that's helping hundreds of people who've had their benefits cut.
Some of cases are shocking.
I was told of one cancer sufferer who was refused DLA on the grounds he was able to work. Within a fortnight, he was admitted to a hospice.
That angers Colin Hampton, one of the senior welfare advisers at the town's Derbyshire Unemployed Workers Centre.
"The government is acting like a cowboy insurance company," he said.
"They are disqualifying people en masse both for Employment Support Allowance and now they're moving onto Disability Living Allowance.
"This isn't about getting people into work, it's about saving the government money. It's as simple as that."
Reformed system
Certainly on welfare reform, the government has set a definite direction of travel.
There's to be a new universal benefit or credit. Ministers hope the reformed system will be easier to understand and to pay out.
But above all, the changes are aimed at encouraging more claimants off welfare and into work.
We heard a lot of that from the last Labour government.
But on this most difficult social issue, the key to any coalition breakthrough will be down to employers.
Will they be committed to employ those whose lives have been shaped by growing welfare dependency?
Without that opportunity, the fine words of ministers are likely to be meaningless.