Man jailed for murdering Carl Chadwick in Warrington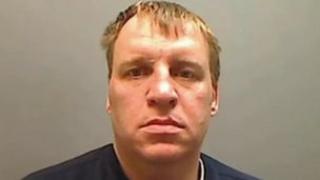 A man has been jailed for life for murdering a man with learning difficulties in his Warrington home.
Carl Chadwick, 40, was found dead at the Grasmere Avenue flat in Orford on 29 January. He had been stabbed and strangled.
Heath Lee Jones, 40, also of Grasmere Avenue, admitted murdering him and stealing his wallet and cash.
He was sentenced at Liverpool Crown Court to a minimum of 18 years in prison.
Cheshire Police said Mr Chadwick had learning difficulties which were aggravated when he suffered a head injury when he was 17 years old.
'Deeply shocked'
The accident led to a degree of memory loss and made some everyday tasks more difficult.
The force said Mr Chadwick did not trust banks and was known for having large amounts of cash at his home.
He was last seen leaving The Greenwood pub on the evening of 18 January and was found dead at his flat by concerned neighbours the following day.
Det Insp Nigel Wenham, who led the investigation, said: "Carl′s death deeply shocked the community, everyone we spoke to found it hard to believe that someone would harm him.
"Jones was jealous of the fact Carl had more money than him and his bitterness resulted in a brutal callous murder of a man that would not harm anyone.
"He knew Carl well and was aware of his vulnerability and I believe he went to his house that night intending to kill him, then callously stole from him.
"My thoughts remain with Carl′s family at this difficult time. I hope seeing the man responsible for his death behind bars helps them gain some degree of closure."
Mr Chadwick's family said he was "a lovely man who would not hurt anyone" and was known as Dancing Carl.
"He loved dancing and enjoying himself and that is how we will remember him.
"We are glad to see the man responsible for taking Carl away from us behind bars and when he dies he will have to answer to Our Lord for what he has done.
"Keep dancing up in heaven Carl as no one can hurt you anymore."