Peover pupil 'excluded on health and safety grounds'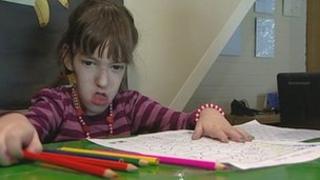 A couple from Cheshire are calling for their daughter to be able to return to school after they say she was excluded for health and safety reasons.
Sophie Jackson, six, was born unable to swallow. She had attended Peover primary school, in Over Peover, for two years.
Her parents claim she was told seven weeks ago she could no longer attend.
The school declined to comment but Cheshire East Council said it was working to resolve the issue.
Sophie is currently having three hours of council-provided tuition per week at home.
'Lack of communication'
Her father Alan Jackson said: "She is missing her friends terribly.
"She has been through a lot. The only part that works perfectly for Sophie is her brain.
"School and the education [authority] are taking that away from her."
He said the head teacher had told her seven weeks ago that she could not go into school.
Mr Jackson said they were later told the school did not have a risk assessment for her, or a medicines policy, despite being told previously that "procedures were in place".
"I basically just want answers," he said.
"I am not laying blame at anyone's doorstep. This is just totally lack of communication."