East Midlands Ambulance Service fails response targets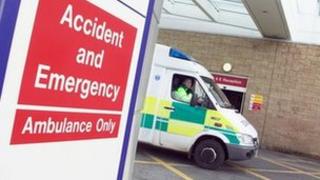 East Midlands Ambulance Service (EMAS) has again failed to hit government targets for emergency call responses, the latest monthly figures revealed.
The Department of Health said it was the second worst service in England for responding to life-threatening calls within eight minutes in September.
The ambulance service was also the slowest in the country for reaching less urgent patients within 19 minutes.
The NHS Trust said the "disappointing" results were caused by the hot weather.
The national target for ambulance trusts to respond to "category A" 999 calls within eight minutes is 75% and for calls within 19 minutes 95%.
'Significant pressure'
In September, EMAS's "category A8" response rate was 74.3% from 17,591 calls.
While London Ambulance Service was the worst at 73.5% from 31,593 calls, the country's average was 75.5%.
An EMAS spokesman said: "During the last week of September, we experienced unusually hot temperatures and this resulted in many more 999 calls being received for people suffering medical conditions such as breathing difficulties.
"This placed our A&E service under significant pressure. Prior to the last week in September, we were on target to achieve the 75% standard."
The ambulance trust said some rural areas in Lincolnshire and Derbyshire Peak District had been "challenging" to reach within the response target times.
"At certain times of the year the population in these areas does increase significantly putting even greater pressure on our services.
'New staff rotas'
"We will continue to assess the impact of our new staff rotas, put in place to better match demand, and to see the improvement which we expect to see from that," an EMAS spokesman added.
The ambulance service achieved the "category A8" target for the period between April and July, but each month since April EMAS had the worst rate in England for responding to less urgent calls within 19 minutes.
In August, the NHS Trust also had the worst rate in the country for responding to 999 calls in both categories - "category A8" was 74.4% and "category A19" was 92.3%.
The average response figure across England for August was 77.4% (life-threatening calls) and 97.1% (less urgent calls).