Crossbow siege man Keith Richards was lawfully killed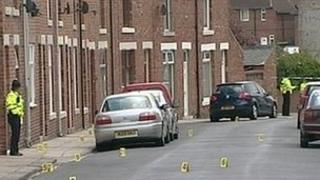 A man shot dead by police in County Durham was lawfully killed, an inquest jury has concluded.
Father-of-two Keith Richards, 47, died during a stand-off outside his home in Shildon in May 2009 after firing crossbow bolts at officers.
Jurors decided that it was likely Mr Richards, who suffered from depression, wanted to be killed by armed officers.
Mr Richards was drunk when he was hit by a round from a police rifle after he had urged police to shoot him.
Mr Richards, who lived apart from his wife, had handed their home back to the bank before it was repossessed.
The inquest at Newton Aycliffe heard he was distressed at recently being arrested for drink-driving and had lost his window-fitting business after his tools were stolen.
IPCC errors
After the verdict, Coroner Andrew Tweddle said he would consider making recommendations for changes to police policy.
Among his concerns was a lack of training to deal with crossbow incidents.
Chief Constable Jon Stoddart said an Independent Police Complaints Commission investigation found there were no issues to address around culpability of any of the officers concerned.
He said: "Authorised firearms officers have attended innumerable incidents over the years. Keith Richards is the first person to have been fatally shot by Durham Constabulary in our 170 history.
"However, we must remind members of the public that if you point a potentially lethal weapon at armed officers or indeed anyone, there is a high likelihood that officers will respond with proportionate force."
Mr Richards' brother, Stephen, a retired detective inspector with neighbouring Cleveland Police, said the family were unhappy with the IPCC investigation: "As the people who knew him best we are certain Keith did not intend to harm anyone that night.
"We accept the verdict of the jury, but we feel quite strongly it still should have been possible for the police to contain the situation longer, to allow for the arrival of specialist, trained negotiators."
The IPCC Commissioner Nicholas Long apologised for the errors and miscommunication during the investigation.
Mr Long said: "As with all our investigations we will learn from any errors that have been made.
"The investigation itself reached findings that have been supported by the outcome of the inquest.
"One can question, with the benefit of hindsight, the decision to delay the entry into the property after the firearms had been discharged.
"However it is evident the delay in entering the property made no difference to the outcome as the injury sustained by Mr Richards would have resulted in a rapid death."