South East couple in inflation Christmas squeeze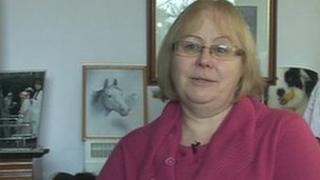 Sarah Barwick works as a part-time cleaner and cook and says she has been hit hard by rising costs.
According to the Office of National Statistics (ONS) pay for female part-time workers in Kent decreased by 1.5% between April 2010 to 2011.
In November figures showed gas bills had risen by more than 25%, compared with the same month in 2010, petrol had jumped by 13% and food was up nearly 5%.
On Tuesday, the ONS announced the rate of Consumer Prices Index (CPI) inflation in the UK fell to 4.8% during the November, down from 5% the month before.
The rate still remains well above the Bank of England's target of 2%.
Retail Prices Index (RPI) inflation - which includes mortgage interest payments - also fell to 5.2% from 5.4%.
Mrs Barwick, 59, of Ulcombe near Maidstone, said Christmas this year was going to be very tight financially as everything else seemed to be costing more.
She said: "I am in the second year of a pay freeze and, as the chancellor announced it's only going to be 1% for the next two years, my wages aren't going up [in real terms].
"At the moment I haven't got anything for my husband [this Christmas]. Normally we get some new toys for the dogs but that is on hold, so it's only sort of essentials."
Her husband Alex, who is a retired fireman, said: "My daughter wants some Argos vouchers and my son wants some money towards a chicken coop. So you know everyone is giving them money or vouchers this particular Christmas.
"Of course you know they have got wives and partners and you tend to want to include them as well and I don't think I am going to be able to this year.
"It is very difficult and it's going to get more difficult."
Across the South East pay increased by 0.78% for all employees between April 2010 and 2011.
There are differences between areas with wages going up 3.7% in Medway, 1.6% in Kent, 1.1% in West Sussex and 0.2% in Brighton and Hove.
They dropped by 1.3% in East Sussex and 0.6% in Surrey.
'Inflation fall forecast'
Fragkiskos Filippaios, a senior Lecturer in International Business at Kent Business School, believes continued stagnant wages and rising costs will make the financial situation worse.
He said: "Effectively you are going into a vicious cycle where consumers don't spend, businesses don't have money, they don't employ people, they don't give wages."
The Conservative MP for Maidstone and the Weald, Helen Grant, said: "Times are undoubtedly tough for many families across the UK.
"Our need to balance the country's books has been compounded by rocketing commodity and food prices around the world.
"The coalition government has introduced a number of measures to mitigate the squeeze on household budgets. To name but a few; freezing fuel duty, limiting rail fare increases and increasing personal allowances which has removed many hard-working, low-income workers from having to pay tax.
"Today's reported reduction in inflation was also a small but welcome step in the right direction and I'm encouraged the Bank of England has forecast a sharp fall in inflation over the coming year."