Bathing water quality improvement in South West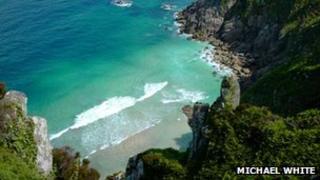 Almost every beach in the South West has reached the European Union standard in bathing water quality, South West Water (SWW) has announced.
The company said 142 of the 144 designated bathing waters in Devon, Cornwall and Lyme Regis in Dorset, met or exceeded the mandatory standard.
Of those, 137 met the EU's excellent (guideline) standard.
SWW said it showed the region had some of the finest bathing waters, beaches and rivers in the UK and Europe.
Bathing water quality is monitored by the Environment Agency every year between 1 May and 30 September.
Results 'even better'
The only two beaches that failed to meet the mandatory water standard were in Devon at Combe Martin and Capstone at Ifracombe.
The results were an improvement on last year, when 139 were classed as good - 130 of which met the excellent standard.
Over the past 20 years, SWW has invested £2bn in Operation Clean Sweep to close sewage outfalls and improve beach water quality across the region.
Before then, it said only 38 bathing waters consistently met the excellent standard.
SWW Operations Director Stephen Bird said beach users had also benefited from its new online information service, Beach Live, which provides information about possible risks to bathing water at 17 of the region's best beaches.
It was developed in partnership with Surfers Against Sewage, the Environment Agency, tourism leaders and local beach managers.
"We will be expanding the service next year and continue to work with our partners to ensure that residents and visitors to the South West experience the benefits of cleaner bathing waters for generations to come," Mr Bird said.
Tourism chief Malcolm Bell said clean beaches and clean bathing waters were "essential" to visitors' enjoyment.
He said: "Last year's results were so good that we thought they would be hard to beat, but this year's results are even better."