Warwickshire Police arrest 20 in organised crime raids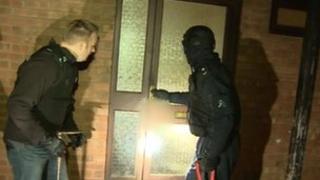 Twenty people have been arrested as part of an operation to stamp out serious and organised crime in a Warwickshire town.
Warrants were executed in Rugby, Coventry and Birmingham, under Operation Laser, involving more than 300 police officers.
The arrests were connected with the supply of class A drugs.
Warwickshire Police said it was the largest operation it had undertaken to tackle serious and organised crime.
The initiative had been planned for nearly a year.
'Not the end'
No-one from the police was available to give the ages and genders of all of those arrested.
At 06:00 GMT officers from the force, supported by West Mercia Police officers, executed warrants at 22 addresses, the majority of them in Rugby.
One person was arrested in the afternoon in London.
Det Ch Insp Andy Nolan, senior investigating officer for Operation Laser, said the 20 arrests were "not the end of it".
He said: "We are also going to use the powers we have to seize assets and money gained from criminal activity.
"Money is the lifeline of serious organised crime and by cutting their supply, we will stop the ability of criminals to continue to commit these crimes."
Det Ch Insp Nolan said police recognised that by arresting those "who supply drugs to our communities, the people who use illegal drugs within our community will be affected".
He added: "Warwickshire Police is making sure that the drug users have all the guidance they need to get the support and specialist help they need to break their dependency."
Det Ch Insp Nolan said some of the success of the operation had come from members of the public providing information.