Is Tyneside winning cruise ship battle with Liverpool?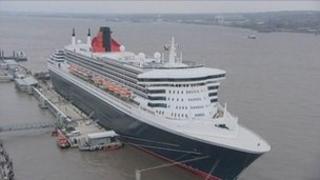 A decision is expected soon which could have a big effect on the amount of cruise traffic that comes to Tyneside.
The government is considering whether to let Liverpool open its new cruise terminal to turnaround traffic - cruises which start and end in the same port.
Liverpool's plans have caused consternation amongst competitors such as Southampton and the Port of Tyne because its cruise terminal was funded with the aid of millions of pounds of public money.
They argued that Liverpool would gain an unfair competitive advantage as their operations have had no public subsidy.
Unfair competition
Merseyside had originally agreed it would not run turnaround cruises from the terminal to avoid those accusations of unfair competition.
But it offered to pay £5m of £20m in grants back in return for the lifting of the restriction.
For some time the tide - if you forgive the pun - seemed to be going Liverpool's way with ministers making positive noises.
But now it appears that Tyneside and Southampton might be winning the day.
The leader of Liverpool City Council said as much in a recent interview on BBC Radio Merseyside.
Cllr Joe Anderson accused the government of going back on an agreement because of pressure from rivals.
He said: "You know we reached what I believe to be an honourable settlement of the grant that they allocated to us some years ago. And we worked out a settlement and now it looks like government is reneging on that.
He went on to add: "They are now demanding more money of us and are saying Southampton and Newcastle are lobbying.
"But you know, from my point of view, they've agreed the principle, they agreed the principle that we could have the cruise liner terminal operated and as far as I'm concerned I'm going to try and make sure that they do."
Court action
Cllr Anderson also suggested he wouldn't be taking that lying down. He said the council was prepared to take the government to court for restraint of trade if necessary.
All of this seems a little curious, as the government has said it was consulting on Liverpool's plans before making a decision.
Cllr Joe Anderson implies that a decision had already been made.
He seems to have rattled some cages anyway.
North East Conservative MEP Martin Callanan has been quite clear that he thinks Liverpool's plans should be blocked unless they pay back all of the grant aid it got towards the costs of the cruise terminal.
He helped to collect a 12,000 signature petition opposing the plans.
He said: "It appears that the leader of Liverpool City Council is trying to bully the government into making a decision which ignores the legitimate views and concerns of others.
"His claim that the government finalised some kind of deal with Liverpool City Council before concluding its consultation is absolutely astonishing.
"Thankfully, if what Cllr Anderson says is true, it looks as though the government is not prepared to rubber stamp Liverpool City Council's proposal and is rightly listening to the voices of other communities that have been demanding fairness for many months. "
"I think the government is in no doubt about the strength of feeling expressed on Tyneside and across the country. Thousands of people signed a petition and sent a very clear message to Liverpool and the government.
"Liverpool can have their new cruise ferry terminal or they can have the taxpayers' money. But they can't have both."
War of words
Southampton councillors have also hit back at Liverpool.
But it's hardly surprising there should be a war of words over this.
Liverpool estimates that each cruise ship is worth £1m to the city's economy, and that's money that could be lost for its rivals.
Coming up with a deal that satisfies Liverpool, and rivals such as the Port of Tyne and Southampton, could be very challenging for the government though.