'Cut' European Parliament waste says MEP Van Orden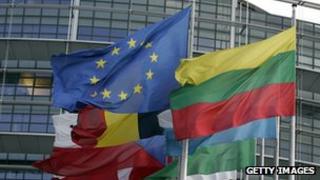 For many years Geoffrey Van Orden has been campaigning for the European Parliament to become less bureaucratic.
Now the Conservative MEP for the East has come up with some compelling figures to support his case.
His think tank New Direction has just brought out a pamphlet which claims to have identified millions of Euros of waste.
If only it were dealt with, parliament's budget could be cut by 25%, he claims.
'Ending Excess'
"Ending Excess, cutting the costs of the European Parliament", co-written with a Belgian MEP Derk Jan Eppink, reveals that since 2004 the number of officials in parliament has increased by 60%, while the number of MEPs has stayed the same.
"You have 736 MEPs from all 27 countries but you have over 6,000 officials in the parliament," Mr Van Orden tells us.
He adds that over 1,000 of them earn more than the MEPs.
"So this is an area which needs to be looked at."
The report contends that the scale of the increase is out of proportion and driven by institutional ambition, and it takes little account of economic realities.
It states: "While nearly all member states have implemented austerity measures to reduce debt and promote growth, the European Parliament is increasing its own budget and spends money gratuitously."
The European Parliament costs E1.69bn a year to run.
Although that is a fraction of the EU's E118bn annual bill, the MEP concedes, he maintains the cost has gone up by 18% since 2009.
Among the savings which Mr Van Orden suggests could be made easily are:- stopping the monthly de-camp to Strasbourg (something that would save E200m a year);- cutting back on information offices;- cutting back on translation.
Cutting costs
"NATO has 28 member countries and just two working languages, the UN has 193 member states and six working languages.
"Why must all our documents be translated into 22 different languages? It is one of the most costly part of parliament's budget."
Cutting the number of languages to six, says the report, would save E110m a year.
He also suggests fewer buildings - the report finds that parliament rents, leases or owns 63 buildings, more than double the number it occupied in 2002.
And he believes savings could be made by cutting back the subsidy in parliament's canteens:
"The general public pays € 2.60 for a café latte on Place Luxembourg but highly-paid employees pay only 85 cents in the parliament's own facilities," he says.
He also suggests axing the parliament's TV service; the report claims it cost E30m to set up but only has 16,000 subscribers.
Reality check
The parliament will argue that a lot of these costs are necessary and brought about by the growth of the European Union.
It will also point out that it is freezing allowances and reducing travel costs.
"Someone is beginning to get the message... but there is still much to be done," says Mr Van Orden.
"These reductions merely reduce the increases that had previously been proposed."