Devon and Cornwall observe Remembrance Day silence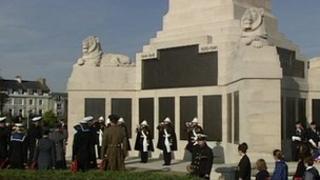 People across Devon and Cornwall have observed a two-minute silence as part of the Remembrance Sunday commemorations.
In Plymouth, veterans marched to the Hoe on the seafront before laying wreaths at its naval war memorial.
In Cornwall, sailors from HMS Raleigh laid wreaths at the graves of 65 servicemen killed in a German bombing raid at the base in 1941.
Other commemorations included services at Exeter and Truro cathedrals.