Epsom and St Helier hospitals merger bids received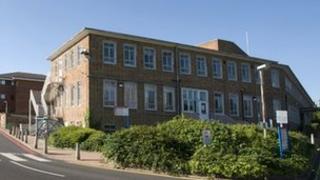 Formal bids have been submitted to change the management structure of two hospitals in Surrey and south London.
Ashford and St Peter's Hospitals NHS Trust has bid to merge with Epsom. St Helier, in Carshalton, would merge with St George's in Tooting, south London.
The existing Epsom and St Helier University Hospitals NHS Trust will be split up if the changes go ahead.
The final decision on the mergers will be announced in January or February and they are expected to happen in 2013.
Future of services
The current trust is made up of Epsom, St Helier and Sutton hospitals, and Queen Mary's Hospital for Children.
Fears have been expressed for some years over the future of services at Epsom and St Helier, which both currently have A&E and maternity departments.
Jan Sawkins, who chairs the transaction board in charge of the bidding process, said the bids did not include plans to shut departments.
"It is important to remember that this process is not about changing services," she said.
"The organisations bidding to take over Epsom or St Helier will be required to run all the services currently provided, including A&E and maternity."
If the transaction board approves the mergers, it will seek approval from the Department of Health.