Cheshire Police seek 'callous' poppy money thief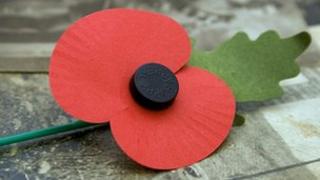 Police are searching for a "callous" thief who stole Royal British Legion collection boxes in Cheshire on Armistice Day.
The theft of Poppy Appeal money on Friday 11 November from a Frodsham bakery has been linked with eight other crimes.
The first was in Culcheth on Saturday 5 November and was followed by thefts in Padgate, Grappenhall and Chester.
Ch Insp Jon Ward said the thefts were "abhorrent and disrespectful".
The suspect is described as a white man aged in his early to mid 30s, of average build and about 6ft (1.8m) tall, with brown shaven hair receding at the crown.
Mr Ward said that officers "firmly believe that the same individual may be responsible for this spate of thefts and we are doing all we can to locate his whereabouts".
"We will leave no stone unturned in our search to bring this callous individual to justice," he said.
"This particular type of crime can be described as nothing more than abhorrent and disrespectful to the memories of those to whom we pay our respects to during the Armistice memorial period."