Woking developer aims to give away £1m profit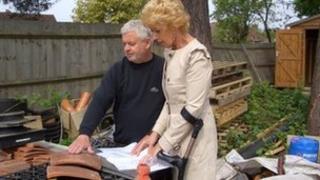 When businesswoman Charlotte Grobien renovated her London home six years ago she caught the property bug.
After the project was over she decided to become a developer full-time - but to give all the profits to charity.
To date she has given away £825,000 and hopes to reach £1m early next year with the sale of three cottages being built in Woking, Surrey.
"I actually like having plasterers and builders around. It's no problem at all," she said.
"I thought, 'I could do a bit more of this but why not do something useful with the money?'
"We were on a roll and it went from there."
The idea was to renovate more properties near her home in Putney, south west London, but she could find nothing suitable so ended up building three new houses in 2006 in the capital.
"It was bit daunting but we did it," she said.
"That was at the height of the last big property boom and we sold them all for over £1m."
Charities such as the Polka Theatre for children in Wimbledon, Ambitious About Autism, Action for Blind People and the Shooting Star Children's Hospice have received donations.
"I have about eight charities," said Mrs Grobien, who works through her company, Give It Away.
"I wanted something that made my heart beat, so it's children, families who are financially disadvantaged and teenagers who need mentoring to get back into a meaningful way of life."
Her latest development at Howards Farm, in Stockers Lane, is her first outside London.
"I've stepped outside Putney and I must say I quite like it," she said.
"A couple of local charities have already contacted me and they fall into my remit so I will be working with them."
A local builder is working on the cottages, on land next to listed 16th Century property Howards Farm House.
"I borrow the money secured against the land, get lots of discounts on materials along the way and pay the money back at the end when they are sold," said Mrs Grobien, a former conference manager.
"Whatever profit is left I give away."
If the Woking houses sell for the expected £350,000 each Mrs Grobien will have reached her target of giving away £1m.
"I honestly don't know if I will go on with developing after that," she said.
"It depends what comes along."