Man delivered fatal blow to soldier in 'self-defence'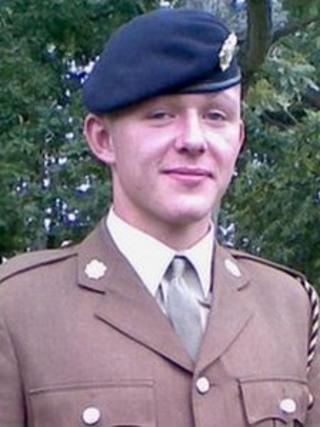 A man who punched a soldier to the ground causing him to later die from a fractured skull did so in self-defence, an inquest has heard.
Pte Matt Brooks, from Trowbridge, Wiltshire, died five days after the incident in a car park near Yates's bar in Portsmouth, on 13 May, last year.
But Dean Aldcroft told police Pte Brooks, 18, hit him first, Southampton Coroner's Court heard.
Charges against Mr Aldcroft, 22, were dropped due to a lack of evidence.
Mr Aldcroft, from Portsmouth, had been charged with manslaughter, but prosecutors conceded they could not disprove he acted in self-defence.
'Should have run'
He told detectives Pte Brooks headbutted him on the dance floor of Yates's following an argument.
He said he did not hit him back, but his friend did punch Pte Brooks and all three were thrown out.
The hearing was shown CCTV footage of the fight and the pair being ejected.
In the police interview, Mr Aldcroft told how he then met Pte Brooks in the car park.
"His hands were up in front of him like a boxer. I should have run but I panicked. I thought: 'Oh no, they are going to beat me up'.
"He (Pte Brooks) hit me first on the left cheek. It hurt. It was harder than the head-butt. I struck him once on the nose."
Mr Aldcroft said he saw Pte Brooks lying on his back on the floor with blood coming from his nose.
Witnesses saw kicking
"I didn't want to hurt him. I didn't intend to put him in hospital like now - I didn't intend that. I hit him in self-defence."
Pte Brooks died at Southampton General Hospital from a severe head injury that fractured his skull as his head hit a hard surface, pathologist Basil Purdue said.
He also had a fractured cheek bone.
In the interviews, Mr Aldcroft also denied kicking Pte Brooks when he was down, despite several witnesses telling police he had.
Pte Brooks was serving in the Army's Royal Logistics Corps and was enrolled on a course at HMS Sultan, in Gosport.
The inquest continues.