Jerry Green Dog Rescue closes two shelters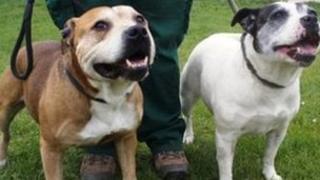 A dog rescue centre is to close two of its shelters in the eastern region.
Jerry Green Dog Rescue is closing its homes at Halesworth in Suffolk and Brixworth in Northamptonshire.
The charity said it was because it could not afford to keep all of its seven shelters open.
Chief executive David Foulds said: "When you have the Suffolk site that's run successfully for 42 years, it's an awful decision to have to make."
The charity said it costs £1.5m to run all its shelters each year.
Mr Foulds said: "Income is not meeting expenditure at the moment and all seven sites were in need of significant expenditure to improve facilities, so we took the decision to close two and we will use the income generated from the sale of the sites to achieve the refurbishments needed elsewhere.
"Historically we were set up in north Lincolnshire and the trustees had to take a view on where we operate and we will concentrate our efforts on the Lincolnshire, Yorkshire and Nottinghamshire areas.
"We've worked with other charities such as the Blue Cross to make sure welfare needs in Suffolk and Northamptonshire can be met."
Jerry Green, which started in Broughton in 1961, opened its second centre in Suffolk in 1969, with Brixworth the last to open in 1998.
All dogs are being moved to the remaining five sites and the charity said it would maintain its commitment to support owners who have taken dogs from them.
Nine paid staff are being made redundant in Suffolk, which had capacity for 35 dogs.
Brixworth had space for 25 dogs and six staff are being made redundant there.